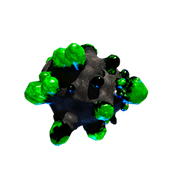 Poisonium is an asteroid
material
 found in two of the "Safe Zone"
sectors
for your
faction
. It can be refined at the
Factory
 and is used to build
ships
,
weapons
, and other items. This is one of the most difficult of the Safe Zone minerals to obtain, second only to
Bluetonium
. There are one level 3 and one level 4 poisonium sectors in each faction's safe zone. For Shards, the level 3 sector is Oberon, and the level 4 sector is Caldera. For Varians, the level 3 sector is Marak, and the level 4 sector is Gosh.
Ad blocker interference detected!
Wikia is a free-to-use site that makes money from advertising. We have a modified experience for viewers using ad blockers

Wikia is not accessible if you've made further modifications. Remove the custom ad blocker rule(s) and the page will load as expected.