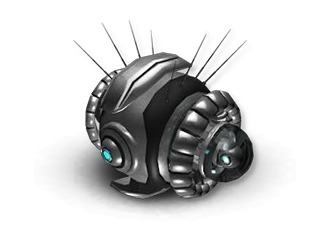 The specialist when it comes to asteroids. Fitted with a highly accurate lense in his laser, he allows you to get more from Asteroids.
The rocky lasts only 3 hours
Building/Upgrading:
Edit
Material Requirements (note: the material requirements changes every level, this only indicates how much resources you need for building level 1 Rocky)
Other way of obtaining the rocky is buying it via the In-game Shop. The price depends on how high the level of the rocky is. Higher level means more expensive rocky.
Upgrading Statistics
Level
Gear
Ball Bearing
Controller
Prod. Time
1
16
8
4
2h
2
20
10
5
6h
3
22
11
6
12h
4
30
15
8
1d
5
36
18
9
1d 12h
6
42
21
11
2d
7
55
28
14
2d 6h
8
70
35
18
2d 17h
9
100
50
25
3d 3h
Mining Bonus per level:
| Level | | | |
| --- | --- | --- | --- |
| 0 | 10% | 13% | 13% |
| 1 | 15% | 19% | 20% |
| 2 | 18% | 23% | 24% |
| 3 | 20% | 25% | 26% |
| 4 | 22% | 28% | 29% |
| 5 | 24% | 30% | 31% |
| 6 | 26% | 33% | 34% |
| 7 | 28% | 35% | ? |
| 8 | 29% | 36% | ? |
| 9 | 30% | 37% | ? |