Striker

Parameters

Shield capacity
63 000
Speed
220
Booster slots
3
Robot slots
3
Nuclear slots
2
Generator slots
2
"Advanced Allrounder Ship - gives you 25% MORE CREDITS and 25% MORE XP while using it!!"
Striker is a
Battle Class
ship. It can be obtained in the Battle Kit (for 15.00$USD), which is offered at Player level 22.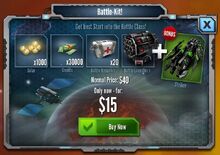 Installable equipment [Levels]
Edit
Every level increases the asteroids cargo +50.
Upgrading
Edit
Upgrading Parts Requirements:
| | | | | |
| --- | --- | --- | --- | --- |
| Level | | | | Upgrade Hours |
| 1 | 8 | 4 | 2 | 4 |
| 2 | ? | ? | ? | ? |
| 3 | ? | ? | ? | ? |
| 4 | ? | ? | ? | ? |
| 5 | ? | ? | ? | ? |
Energy :
Launcher :
Nuclear :